Shirt: Kohl's on clearance for $5! (similar: J.Crew Factory, J. Crew, Ann Taylor)
Cardigan: J. Crew Factory
Skirt: Target via Goodwill (similar)
Shoes: Banana Republic Outlet (top-similar); Nine West via DSW (bottom-similar)
I am a bargain hunter.  I cut coupons.  I love sales.  I shop around for the best prices.
(I feel like I'm in Shopaholics Anonymous!)
Case in point, I was returning an item at Kohl's back in December and was browsing the clearance racks and found this beautiful jewel-collar oxford shirt from Elle.  It was originally $50 and was marked down to 90% off!  (And of course, I had a 15% off coupon on top of that!)  Why can't all deals be this good?!
Doesn't it look really similar to this J.Crew Factory version?  And guess how much the JCF version is…
It's regularly $79.50 and on sale for $54.50.  I think I got a pretty good deal on my dupe…plus I get more bang for my buck because I got sleeves haha!!
I love the look of an oxford shirt.  Masculine and crisp and very business-like to me.  But the jewel-collar really adds some feminine flair to it!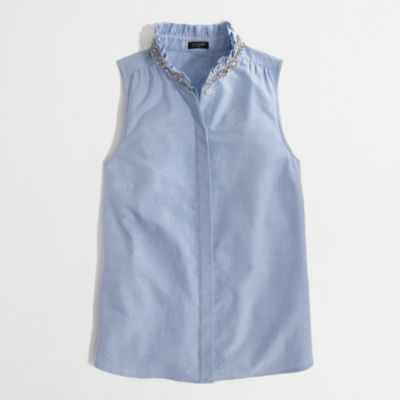 The only problem I noticed with these jewel-collar shirts is that the stones are so heavy that it makes the collar fall down- does anyone else have this problem or know how to remedy it?
How else would you wear a jewel-collar oxford shirt?
Linking up with:
Because Shanna Said So
The Pleated Poppy
Get Your Pretty On
Tucker Up