This shop has been compensated by Collective Bias, Inc. and its advertiser. All opinions are mine alone. #GetJohnsonsBaby #ChooseGentle #CollectiveBias
Summertime with kiddos is so much fun. Fairs and farmer's markets. S'mores and swimming. Popsicles and impromptu playdates. Gotta love it. This summer has been particularly wonderful with the addition of Blake to our family, maternity leave from work and my husband's paternity leave. We've been soaking up every moment!
Summers are also good for throwing schedules out of the window. We find ourselves playing outdoors a little longer, enjoying a bit more ice cream than we probably should and embracing playtime at all hours of the day. But one thing that we have found very helpful, has been keeping the same bathtime routine–especially with a toddler and a newborn. Bathtime is such a special time for our family. It's the time where everything slows down a bit as we enjoy playing the bubbles, getting in PJs, cuddling and reading books together.
With a newborn and a toddler, bathtime can get a little hectic. That said, we have started an assembly line of baths to get the boys clean before bedtime. Here are some of our bathtime rituals and favorite products for our boys.
We typically do bath time every other night with Bryce, and every third day with Blake, unless we are in desperate need of a bath earlier (which has happened on several occasions). Blake is still in his infant tub in the kitchen sink so we are giving the baths separately now. I can't wait for the day when he can sit up so we can combine bath times! Right now, I will give Blake his bath first, then my husband helps with Bryce's bath upstairs while I get Blake to bed. Then if I am done in time, I love to help get Bryce in PJs and read a few stories with him too!
Bryce loves to get his helping stool, pump out the soap and help pour water over Blake and get the suds off him after I wash him. It's so fun, and both the boys enjoy it (Blake didn't the first month or so, but now he totally digs it!) We sing songs about the part of the body we wash and make bubbles, which keeps them both entertained.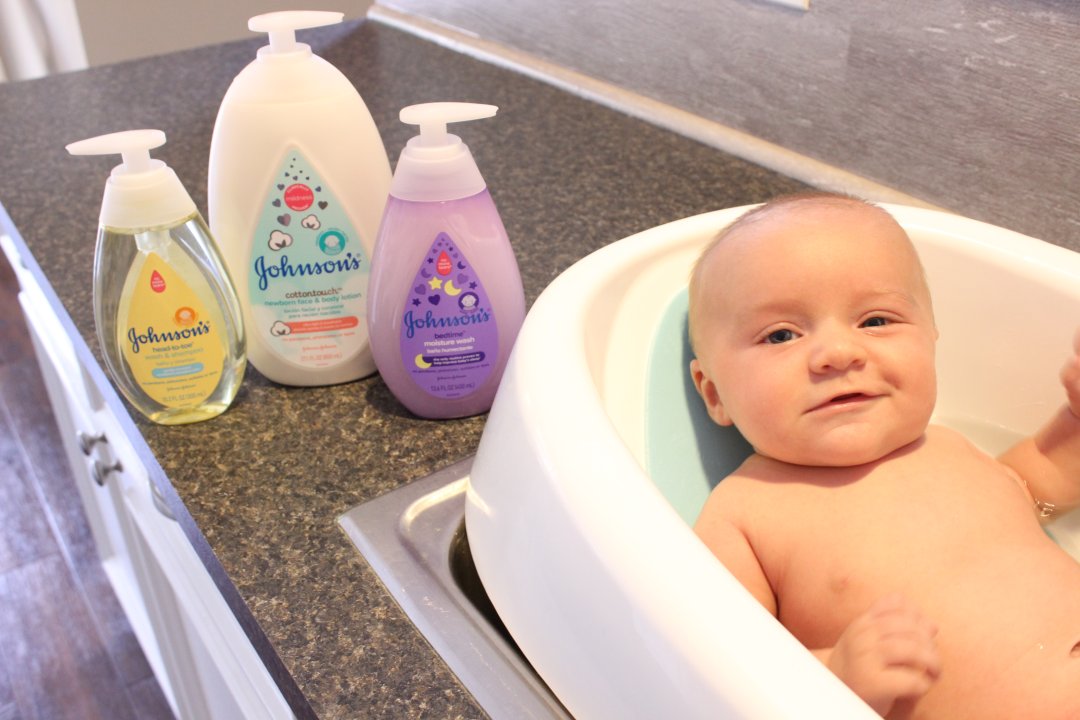 Interested in trying Johnson's bathtime products for your littles? Hover over the photo to click through to Target to shop these products!
Bryce loves to play with bath toys, like foam blocks for building houses, or fishing for toy fish with his trusty fishing pole. Bryce also loves using his bath crayons to draw in the tub, or dropping in those color tabs to make the water different colors.
I typically purchase most of my toiletry products on a Target run with one of both of the boys. Our store just got remodeled and I'm not joking when I say I could live there. It's gorgeous! (And I noticed the dressing room even has a nursing room for mothers- how cool is that?!)
On our past Target trip, I had bath products on my list. We decided to give JOHNSON'S® products a try since they have reformulated their products to be more gentle with 50% fewer ingredients and more naturally derived, free of dyes and sulfates. Their new baby products have no parabens, no phthalates, and are hypoallergenic. I am always extra cautious of ingredients and reading labels on products for myself and my boys…and especially when I am using them on Blake who is almost 3 months old and has that delicate newborn skin.
We have been using JOHNSON'S® Head to Toe Baby Wash & Shampoo, Cotton Touch Daily Face & Body Moisturizer and Bedtime Moisture Wash. The products smell great, are tear free, and I love the easy to use one-handed pumps.
And who doesn't love a good sample and coupons? On August 26th, there will be a Target in-store sampling of JOHNSON'S® Cotton Touch and the Bedtime lotions PLUS coupons will be handed out to shoppers. Also – online and in Target stores from 8/12-9/1, if you buy 3 JOHNSON'S® Baby Products you will receive a $5 gift card, which is instantly redeemable in-store and on Target.com (on the website, you'll see the offers underneath the product).
So be sure to stock up on your bathtime essentials with JOHNSON'S® at Target and enjoy that irresistible smell and feeling of a clean baby…nothing better!