This shop has been compensated by Collective Bias, Inc. and its advertiser. Product was provided by the client for review; however, all opinions are mine alone. #WorldsSmartestToothbrush #PhilipsSonicare #OprahsFavoriteThings #CollectiveBias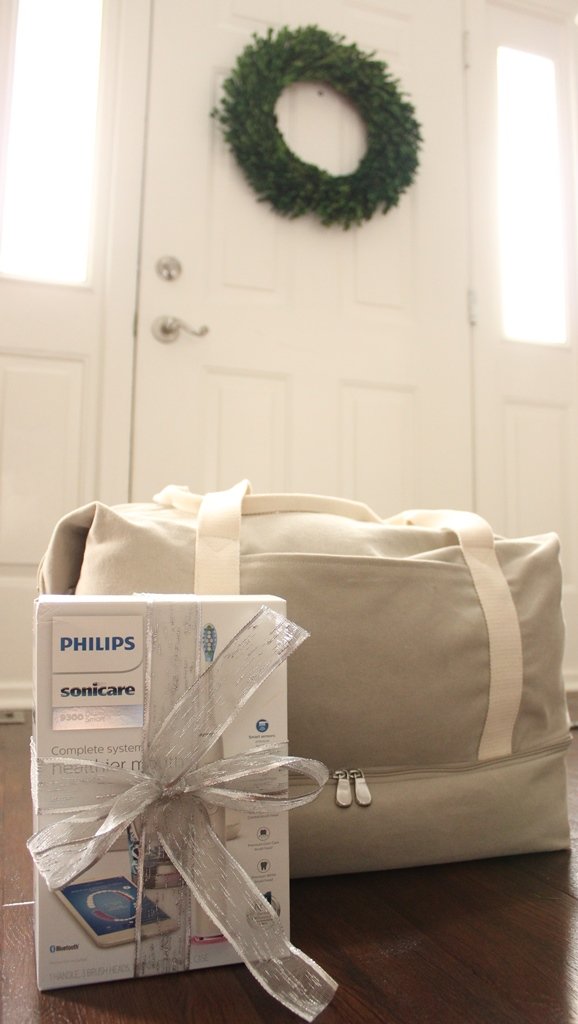 Hover over the image above to start shopping for the minimalist man in your life!
With our son Bryce, we implemented the "4 types of gifts" approach for Christmas: something they want, something they need, something to wear and something to read. It really helps keep gift giving simple, meaningful and focused. We've loved this approach and it's worked so well for our family.
Typically, my husband and I don't exchange many gifts at Christmas, with one of the main reasons being that we find each other hard to shop for…especially as we are trying to embrace minimalism. But after a bit of thought (and online research), I put together some minimalist gift ideas for the hard-to-buy-for men in your life according to the want-need-wear-read approach.  Turns out there are some great options out there. Take a look!
SOMETHING THEY WANT
1 || Experience gifts. Whether it's a sporting events, craft beer crawl or a round of golf at a great course, an experience like this will give memories long after the holidays.
2 || Craft beer, spirits or coffee. Whatever he's into, grab some of his favorite and stock him up on his favorite beverages.
3 || Local food. Head to your nearest farmer's market or specialty store and pick up good, local food. Find his favorite cut of meat or vegetables from a local farm. If you are feeling up for it, special order his favorite meal or cook it using local ingredients. That will definitely be appreciated. And if he is the DIYer like my husband is, get him the tools to make this own beer, smoke his own meat, etc.
4 || Tools. Things like drill bits, saw blades, etc. are always needing to be replaced. A gift card to his favorite  hardware store is ideal so he can purchase his own tools or put towards a high-quality tool that he's been needing.
5 || Car Maintenance. Oil changes, detailing, car washes are all nice, and help keep his vehicle in tip top shape.
SOMETHING THEY NEED
1 || Razors & shaving items.  This might be the perfect time to upgrade him from the drugstore razors to higher quality razor for a closer shave. Add after shave balm too- men need to take care of their skin too…and SPF and oil certainly helps!
2 || Manly lunchbag. Instead of sending my husband to work with a lunch tote that a young student would use, get a more manly lunchbag . Then he'll look super cool taking leftovers to work :-)z
3 || Insulated drink holder. There are some great brands out there that keep things like coffee hot and cold drinks like beer or seltzer water nice and chilled…for hours (and they work!)
4|| Philips Sonicare DiamondClean Smart 9300 Rechargeable Toothbrush. This is no ordinary toothbrush, it's the gold standard in my opinion. If you have a guy in your life that is tech obsessed, it's a great gift option. I got an earlier model about a year ago on the recommendation of my dentist and couldn't believe how much deeper of a clean I got, making my trips to the dentist all the better. I grabbed one for my husband on Amazon (which is where I did the majority of my Christmas shopping), and know he'll be impressed.
In fact, the Sonicare DiamondClean Smart 9500 was named one of Oprah's Favorite things in 2017!
Philips Sonicare DiamondClean offers truly complete oral care for your whole mouth, teeth, gums and tongue. It has four high-performance brush heads and Smart Sensor technology for personalized feedback and coaching on an app too! It really is a smart toothbrush- the 4 modes and 3 intensities let you focus on each aspect of oral health, and the brush heads automatically select the optimal mode and intensity while the toothbrush itself automatically adjusts too, even lighting up on the bottom when you are brushing too hard. No wonder Philips Sonicare is the number 1 Dental Professional recommended brand!
SOMETHING TO WEAR
1 || Wallet. Yes, I am including it in this category because men seem to wear their wallets a majority of the day! A slim, minimal wallet allows you to carry only the essentials. Try a quality leather that will last for years to come.
2 || Phone case.  Since we seem to carry our phones with us everywhere we go, invest in that higher end phone case to protect it. They even make an option that holds your phone and wallet, reducing the things you have to carry.
3 || Belt. I know every few years, my husband's belt needs to be replaced since he wears it nearly daily. A nice leather belt will be much appreciated and used!
4 || Undershirts/underwear and socks. Pure practicality here. These need to be replaced every so often, so get him a set of nicer essentials that he can enjoy all year long!
SOMETHING TO READ
1 || Magazine subscription. Since books are an obvious option here, magazines make for a nice, quick read. Sports, outdoors, DIY… there is a huge variety available, you're sure to find something to suit him.
2 || Books on tape subscription. My husband commutes quite a bit for work, so having an endless library of books he can listen to in the car is great and saves on the "stuff" in your home.

Head to Amazon and get a Philips Sonicare DiamondClean for the guy in your life!
Do you use the 4 gift rule? Any other ideas I can add to this list?