I feel all out of whack after not posting on Monday (maybe that's a sign I'm becoming a real blogger HAHA!)  But after a super busy weekend, crazy day workday on Monday and my first boot camp class in the 21 Day Skinny Jeans Challenge, I was pooped!
Nevertheless, I was able to get some outfit shots in the hotel room from over the weekend.  Dressing for the high school State Debate tournament is a pretty relaxed thing for the judges.  In fact, some of them were dressed like slobs (really people?!), but most were dressed in jeans and a nice shirt.   I always feel weird in jeans though because the debaters wear suits and always look so nice.  Weird, but oh well!
And now for some fun stuff…I found this great A to Z of Me from Jenn of
West Sac Honey
and I wanted to give it a whack!  Here goes nothin!
age – 27.  Or 15 or 50.  Depends on the day I suppose!
bed size – Queen (with an awesome gel top I might add.  Thank you Costco!)
chore you hate – Vaccuming.  Ugh!  We have a rolling canister vacuum and it's awesome but I hate lugging it around and then it always rams into my ankles if I pull on it too hard to move it by me.  Ask my husband- he steers clear when it's time to vacuum…no bueno!
dogs – Izzy.  Also referred to as Izzy Wizzy, Izzer Wizzer, Izz Dog, etc.  We got her two year ago from a local shelter when she was a pup.  They told us she was a labradoodle, but we think she is an Irish Wolfhound/Terrier/Doodle mix of some sort.  Only a doggy DNA test will tell!
essential start to your day – Snuggles from Izzy and a goodbye hug & kiss from my husband (he starts work much earlier than I do!)
favorite color – I love pink but lately I've been smitten with teal.
gold or silver – I used to be a strictly silver girl but I have been adding a lot of gold jewelry to my collection over the past couple years.
height – 5 feet 5 inches
instruments you play – I play the piano and violin (although I haven't played either in a long time…I really need to dust off the violin though!)
kids – None at this point, but I'd love to have two (I grew up as an only child so I know I want more than one to see a different dynamic). But honestly, I'm happy with whatever God blesses us with when that time comes!
live – in suburbia.  And I like it that way!  I'm not a city girl but I'm glad it's close if I ever want to go!
nicknames – ValPal, Vallerina (creative I know)
overnight hospital stays – None thankfully!  (I've only had ER visits from food poisoning and a kidney infection.  Both were not fun.)
pet peeve – People who feel a sense of entitlement.  People who don't follow through.  And when people don't seam rip or remove the little "X" stitch in the back of a jacket or skirt.  Hello?!  Don't you know you are supposed to remove that after you buy it?!
righty or lefty – righty all the way.
siblings – None- I'm an only child! :-)
time you wake up – Usually around 6am to get some blogging done before the day gets away from me.  Love sleeping in on the weekends when I can though!
university attended -Valparaiso University.  (Did you hear?!  The Crusaders are in the NCAA tournament!  We play MSU on Thursday.  GOOOOO VALPO!)
vegetables you dislike – Brussel sprouts.  Eew.  And I haven't tried okra but I have a feeling I wouldn't like it…
what makes you run late – Blogging…I just get so caught up in it that I lose track of time!
x-rays you've had – Just my teeth from what I can remember.  No broken bones for me (knock on wood!)
yummy food – cupcakes, Chinese and chocolate.  The triple threat!  Everyday if I could. YUM!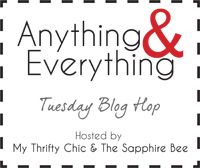 Psst…Follow me!
Facebook |  Twitter  |  Pinterest  |  Instagram  |  Bloglovin'