Psst- are you pregnant or know someone that is?  Enter to win a $1,000 fitness prize pack including For Two Fitness apparel, Ergo Baby Carrier, BOB jogging stroller and Asics running shoes!  Enter here through Friday!



With all this cold weather (and likely a little nesting going on), I've been in the kitchen making a lot of yummy dishes that I've pinned from Pinterest.  Below are a few I've tried recently and would definitely recommend, covering everything from lunches and dinners to sweet treats and desserts!
One Pot Wonder: Chicken Lo Mein
So easy, so flavorful and bonus…minimal dishes!
Cheddar Ranch Chicken Burgers
A  tasty, flavor-packed alternative to ground beef!  I served mine with homemade sweet potato fries. YUM!
Buffalo Chicken Dip
A fan favorite, perfect for football season!  (I only add a quarter of the hot sauce it calls for…)  My cousin Kelly found this recipe and once I tasted it, I knew I had to make it myself!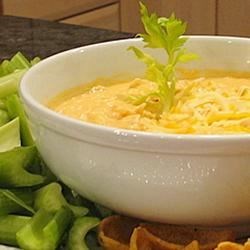 Tomato Soup with Parmesan Croutons
Super delicious tomato soup that almost tastes more like a bisque. And the parmesan croutons?!  Heavenly!  (I added some garlic powder for extra flavor, too.)  The soup/croutons can also be frozen for a quick weeknight meal on the fly.


And on the dessert front:
Homemade Wendy's Frosty
I've experimented with several copycat Frosty recipes, and this one is LEGIT!  I used just three ingredients (1/2 gal lowfat chocolate milk, 1 can fat free sweetened condensed milk and 1 tub fat free Cool Whip) and combined and added to my ice cream maker for about 15 minutes.  It makes a ton and tastes exactly like a Frosty!
Chocolate Chip Candy Cane Cheesecake
Have a hankering for cheesecake but don't want all the calories?  Try this healthy version from Hungry Girl.  I added a store-bought graham cracker crust, which was a nice addition, but you don't need it.  (Or, you could buy the individual mini pie crusts and make single serving cheesecakes!)
The Only Chocolate Chip Cookie Recipe You'll Ever Need
The tastiest chocolate chip cookies EVER.  Props to fellow blogger Kelly for creating these bad boys!  (I think the secret is in the pudding mix…makes for a fluffy, chewy cookie.)  I try to double the recipe and freeze the cookie dough for on-demand cookies whenever the craving strikes!
Recreate any Pinterest foods lately that were a hit?  Share below in the comments so I can give it a try!

Linking up with Peas and Crayons for WIAW with Pinterest Favorites: Foods.