I've saw  this adorable dress from Old Navy and had to get it!  I bought it as part of my January budget, and I know I will get a ton of use out of it.  Old Navy hit it out of the ballpark with this one…I've seen it all over Pinterest, Instagram and style blogs!
I love it because:
1- it's so versatile (add an accessory, cardigan, blazer, scarf or anything to it and it transforms the look)
2- stretchy, made from mostly cotton with a hint of spandex (also perfect for those bloated days)
3- it's a steal at under $20!

I wore it for the first time today, and took my inspiration from Merricks Art:
I pulled a copycat and went with the mustard cardigan, black tights and brown boots.  I also added these turquoise earrings to give it another pop of color.


Franish also styled it up with a beautiful red cardigan and belt and came up with a few other ideas on how to wear it, too!  (I love the army vest/jacket look personally!)
This dress will also transition to spring/summer/fall in so many ways, too!  It's crazy how just changing up the shoes, tights, jewelry, or adding items like a cardigan, vest, scarf changes the look!

Dress: Old Navy (exact)
Cardigan: Target (old)
Earrings: Francesca's (on clearance, recent)
Tights: Got them at Walgreens- can't remember the brand!
Boots: Aldo (exact)

I have about a million other ideas in mind for how to wear/accessorize this lovely little number, and I'm planning to do another post to document all the ideas I have running rampant in my head!
Linking up with Frills for Thrills for CopyCats: Flattery at its Finest.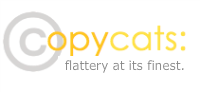 How do you style your striped dresses?